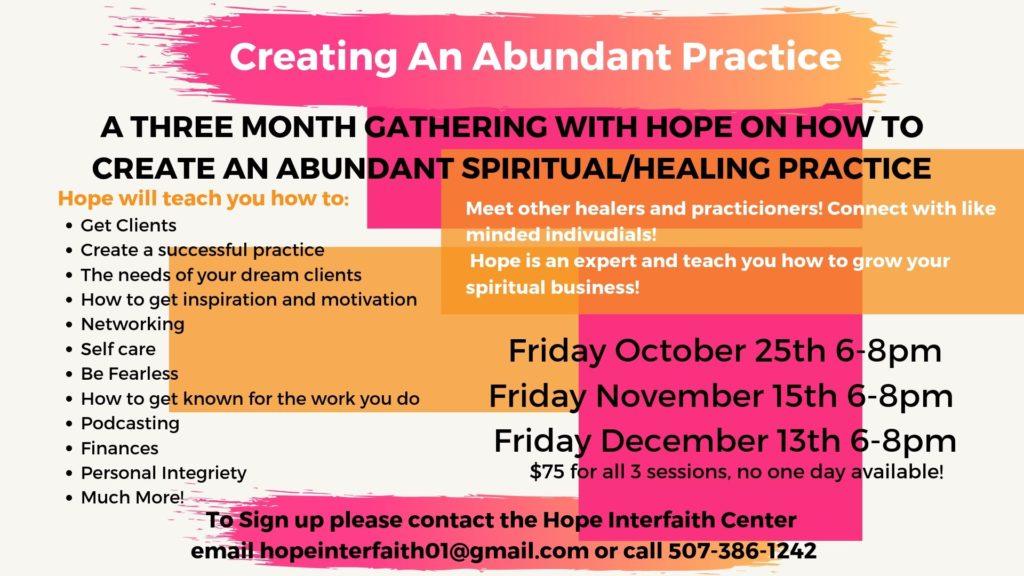 When:
October 25, 2019 @ 6:00 pm – 8:00 pm
America/Chicago Timezone
2019-10-25T18:00:00-05:00
2019-10-25T20:00:00-05:00
Where:
Hope Interfaith Center

CREATING AN ABUNDANT PRACTICE WITH HOPE!
A three month gathering with Hope on how to create an abundant Spiritual/Healing Practice
Friday Oct 25th, Friday Nov 15th, Friday Dec 13th 6-8pm
$75.00 Love donation for all 3 sessions
Most Holistic practitioners and centers are doing magnificent work, but they are struggling to get clients. I have been doing my work now for over 20 years and have been the director of the Hope Interfaith Center for over 15 years and we are still going strong. Creating a successful practice is much more than a mindset. It is also knowing how to be visioning the needs of the people who are looking for you. As we move into the year of 2020 most if not all Spiritual teachers and podcast from around the world are speaking about a mass awakening. So, will you be ready? How will you get ready? How will you know that you are ready to serve? What days will you work? What days will be put aside for inspiration? What time will you keep for Fun and Spontaneity?
I've found that play enables me to self express, reflect, and give my ideas space, which shows up positively in my work. Making time to create art, get into nature, go on photo walks, read poetry, skip down sidewalks puts me in a state of curiosity and flow. I've found that Movement keeps ideas moving forward so I aim to move my body for at least 30 min a day every day is the trick for that. I've found that net-working with other people who are creative and enthusiastic about waking up in the morning have kept me enthusiastic as well. I have found getting regular energy work done and having a spiritual teacher has helped me stay humble and wise and in humility. I've found that kindness and concern and love for my clients have been the corner stone of my success.
I will be prepared every class to provide you with tools and handouts that once integrated will inevitably help you move forward in your practice.
 Learn to be fearless
 Cultivate alliances: There will be guest speakers
 Create a Splash Sheet to use for interviews or podcast.
 Releasing yourself from the tendency to compete
 Do drive by blessings for all other Healing Centers and Practitioners
 Money issues and where to do your practice
 Personal integrity in the year 2020
These are just a few of the topics that will be covered. I am dedicated to helping practitioners to be able to go out there and do their work upon this planet. It would be an honor to meet with you all who are wanting to take this next step in your practice or center no matter what profession you are in!
Blessings, Hope
To RSVP Please call the Hope Interfaith Center or email: hopeinterfaith01@gmail.com 507-351-1374