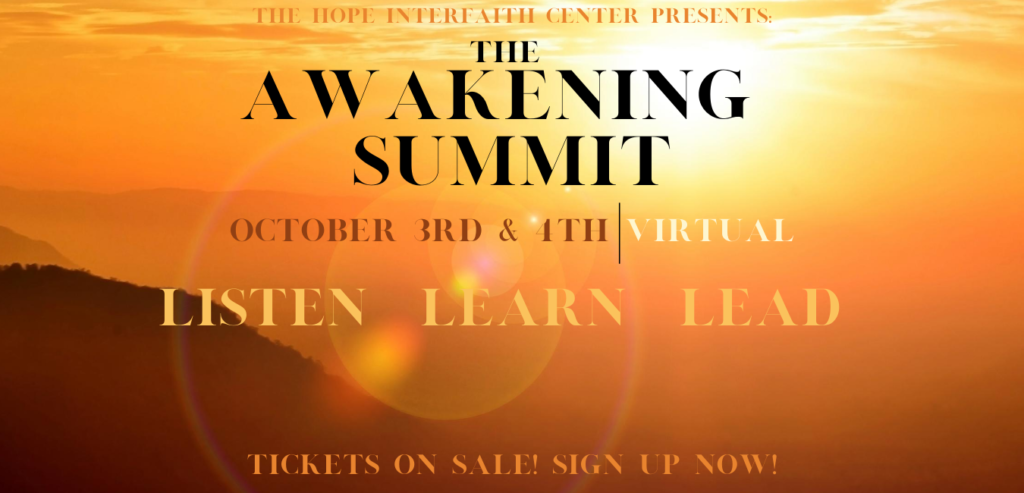 When:
October 3, 2020 – October 4, 2020
all-day
America/Chicago Timezone
2020-10-03T00:00:00-05:00
2020-10-05T00:00:00-05:00
Join us on October 3rd and 4th for the most important global event that will up level your greatest Spiritual Awakening of your life!
This is the time of Awakening!
We have all agreed to come here to help with these changes that are taking place. We are coming together with the greatest spiritual teachers to help you awaken more to the truth of who you are for you to listen and learn so you can lead.
The old is dismanteling so we can rebuild and recreate the new. You are assisting humankind in one of the greatest shifts in the history of the world.
This event will help you become a better leader in your community, in your family, in your business, and in life!
Listen…
Learn…
Lead…
How are you handling the time we are in? Really ask yourself- "What do I need?!"
Is it finding ways to get through this time? How to lead your people or your family? How prosper? How to be happy? How to take care of yourself and gain control of your life? Or maybe you need guidance with what is happening in the world right now?
Many cultures from the Mayan and Inca to the Hopi Indians have prophesied that a great change would take place on Earth…
They believed sacred cleansing would take place and would result in the birth of an age where, all life would co-exist in loving peace and harmony. It is thought that this cleansing would require great shifting in the consciousness of mankind upon this planet. And it was taught long a go that this would be accomplished by using Light to transmute dense energy into finer wave lengths.
The speaker's at the Awakening Summit wish to assist you on how to use your light to transmute the darkness not only in your own world but in the world at large.
This Fall will be a powerful time to choose whether or not they wish to link to the Earth and to all of her animal and plant kingdom to evolve together called "Group soul ascension." We are moving rapidly beyond using the term "my will" as a priority, because this is separate from the Divine Flow of "Thy Will." It is time to have the awareness of Divine law and live in complete harmony with nature.
The current tasks involve reflecting the qualities of love, joy and fun for humanity to perceive, bringing awareness of the connection and love between human and animals and nature.
"For I know the plans I have for you, "declares the Lord," plans to prosper you and not to harm you, plans to give you hope and a future." Jeremiah 29:11
Here's a sample of what you'll receive from the luminary speakers in this wonderful Fall Summit…….
Echo Bodine-
Will share about her encounters with Jesus and speak about her daily Spiritual practice of prayer, and how she uses her intuition which enables her to have internal and external harmony. With all of this third density illusion going on their is a way to easily establish a ritual and pattern of prayer that can and will help you navigate during this time of change.
Deb Schubert-
Will help us explore the new era we are currently entering into and what the numbers say about the USA and our world. There are many people who are wondering what comes next and of course she teaches about making authentic decisions about your future. Our true mission is to be true to ourselves and to live in happiness and love and light.
Renita Robinson-
Will provide a new understanding of leadership. And how not to have a total eclipse of our magnificent most powerful self at this time. How to have Hope and Faith and Courage to reinvent and move into the real self.
Rev. Janice Hope Gorman-
Will invite you to release the weight of your trauma of Covid 19 experiences and the weight of your past that might have imprison you in the confines of your limiting beliefs. Working with Ho oponopono prayer she will guide you into your subconscious memory to release and let go of things that hold you back. This is the Hawaiian Science of Radical Forgiveness, Deep Compassion and to create something new.
Rev. Anne Ganey-
Ann is a Spiritual Teacher from the Mankato, MN community focusing her teachings on Shamanism and the soul. She will bring forth Shamanic Soul Medicine and will be leading Healing through Ritual Action!
More Speakers to be announced…
Let's fire off some questions you might have about this event!
Q. Do I have to be a leader to attend this event?
A. We believe everyone is a leader in their own right. But you do not need to be a CEO, or boss, or manager, although they are welcome, we welcome everyone, all walks of life, all backgrounds, races, religons, beliefs to attend this event!
Q. This seems like some pretty wild beliefs and prophecies, I was raised Christian, does it align with my values?
A. We pride ourselves on bringing love, integrity, all-inclusiveness, and walking a path together through life. We believe in Jesus, Mother Mary, the Holy Spirit, and we believe in the Mayan, the Hopi, the Universe, Gaia Mother Earth, Energy, Galactic Beings, Light Beings, Angels, Ancestors, Buddah, etc We believe that there are many names for God, to the great I AM. We welcome them all. We believe that we are all one.
Q. What is the difference between General Admission ONE DAY PASS tickets and VIP PASS?
A. General Admission ONE DAY PASS gets you access to the whole day on Saturday and all of the speakers videos, that you can re-watch again and again at anytime! You also get access to our private Facebook group to connect with everyone who attends! The VIP PASS also gets you access to the private Facebook Group, as well as a WHOLE ADDITIONAL DAY! That's right, you heard it correctly! When you purchase a VIP PASS you get a whole extra day on Sunday with all of the speakers and a private Q&A where you'll have a chance to ask questions and listen, learn and lead so much more! Look for bonuses along the way too! We love to add extra meditations, healings here and there to go above and beyond your expectations!
Q. What if I want to attend but am unable to attend the days of the event?
A. All of the content, video's and teachings will be recorded, so you won't ever miss a thing! We feel it is important that you have this content available at anytime so you can re-watch it as many times as you want to receive the teachings, messages and energy into your being.