Books by Christopher Emmanuel
Christopher Emmanuel is a successful artist/writer/inspirational speaker who resides in Belize, Central America. His oil paintings and books are on displayed in the Art Gallery at the Sunbreeze Hotel in San Pedro, Ambergris Caye. He has been featured on TV in Washington DC for his paintings and book, True Love. He has authored four books and currently writes a weekly column Secrets to Life for Ambergris today Newspaper in Belize.

Living Divine Harmony
"As we hold each other in love, we hold the entire earth in love. We are the earth angels". ­K. B. Lamoureux
There is a divine harmony to all existence. When we can connect to this oneness we find our true self. This greater self is filled with all we seek-abundance, love, joy, peace and bliss. Know thyself.
Living Divine Harmony brings to you important principles from various religious and spiritual doctrines. Begin your day with one of these 31 day teachings. They offer a compelling message to clear feelings of separation, offering you positive insight connecting you with your divine essence. The guidance generated from viewing the art along with the poetic messages can keep you centered and ignite the peaceful nature within you.
As a trauma survivor, Chris devotes his writing, art and teachings to awaken individuals to live a balanced life, which can lead to more peace and harmony in relationships.
Chris says: "I pursued soul balance – a way to live Divine harmony. This book is the result of how I achieved some measure of this balance. I am happy to be a miner of inner jewels that I can lay before you".
As you ponder what these pictures and words reflect in you, regard them as a call to heal your love and evolve your awareness of the light that IS you.
The Suggested Love Donation for Living Divine Harmony is $15
Secrets to Life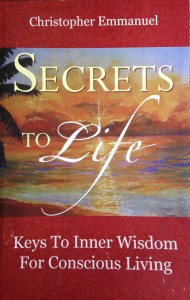 Secrets to Life is a book of reminders that can take you out of your daily drama of experiencing what is wrong to get you focused on what has true value in life. Using the backdrop of an Island setting and exploring the simplicity of nature, Chris draws you into his uncanny world of seeing from an alternate perspective. You will learn how to: Desire less and be happy more; Go with the flow; Fire up your love life; The value of doing nothing… and more. These are just a few of the concepts Chris brings to your daily thoughts along with practical steps to apply these ideas to your every moment. In this life-changing book you'll learn to:
Give and receive more
Get the respect you deserve
Discover your unique expression
Manage your temper
Find real love
Manage your Ego
Connect to your Divine nature
Find deeper purpose
The Suggested Love Donation for Secrets to Life is $15
True Love
Do you know how you feel about love in your life? In this thought provoking work,TRUE LOVE, Christopher Emmanuel shares six compelling techniques to assist you in discovering how you love. By applying these points you will create powerful changes in how you love yourself and others. This book can open awareness to enrich your daily life with love.
The Suggested Love Donation for True Love is $12
If you are interested in one or more of these books, please call Jody at the Hope Interfaith Center at 507-386-1242