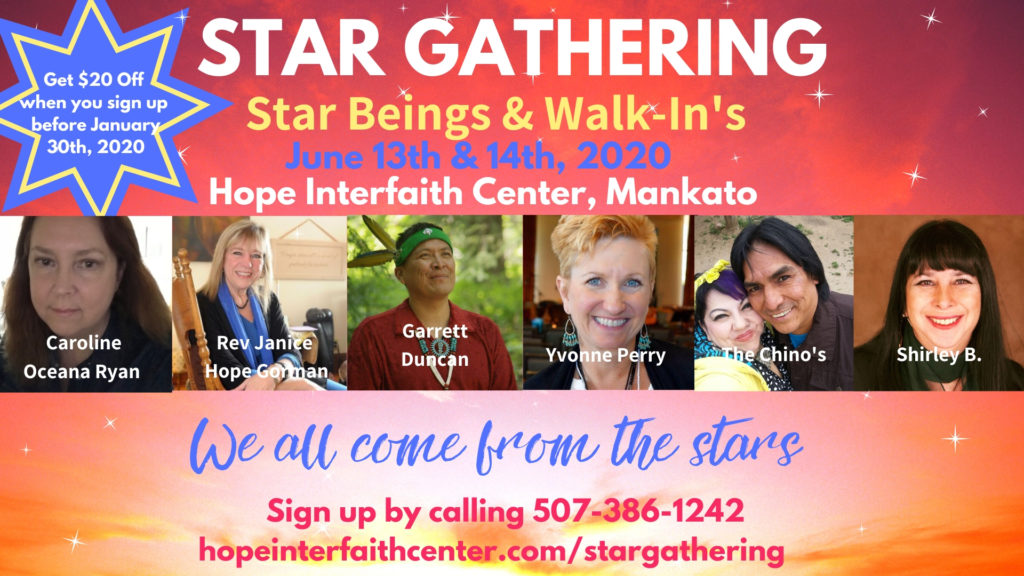 Welcome to the 2020 Star Gathering Star Beings & Walk-In's
All are welcome to come and awaken to your star being roots and qualities to collaborate to bring peace on Earth and goodwill to all!
You won't want to miss this powerful, dynamic two day event! Sign up now and save $20. Get your ticket now for only $202! Reg price tickets are $222, no one day tickets available. 
The 3rd Annual Star Gathering will take place June 13th & 14th, 2020 at the Hope Interfaith Center, 114 Pohl Road, Mankato, MN.
Our Presenters at this years Star Gathering:
Garrett Duncan
Shirley B.
Caroline Oceana Ryan
Yvonne Perry
Rev. Janice "Hope" Gorman
The Chino's will be doing a Galactic Sound Bath
Last years event sold out each day so we are encouraging attendees to sign up early! Save $20 when you sign up before January 30th, 2020!
To sign up, please call the Hope Interfaith Center at 507-386-1242
*Cancellation policy: All cancellations must be made 30 days prior to the event to receive a refund, no refunds will be given after 30 days leading up to the event.